When someone talks about the desire to do an aquaponic system, it is easy to conjure up a vision of fish swimming around a large tank, a few dozen row beds full of green and items to harvest in the backyard, and an acre or two of organic crops in the field to boot.  At the same time, it is easy to confuse doing something like this for homesteading or living off-grid.  Sometimes the three do meet, but more often than not, each is separate and unique lifestyles of their own.
Something I have been learning in bringing you this series, How to Aquaponics When You Rent (Click Here for the first three – PART I, II, III) is that being self-reliant, like in homesteading, as much as anything else, is a mindset where you transcend from being a consumer of things to a creator and fixer of things.  You also become a master in resourcefulness.
How to Aquaponics When You Rent – Implement the Plan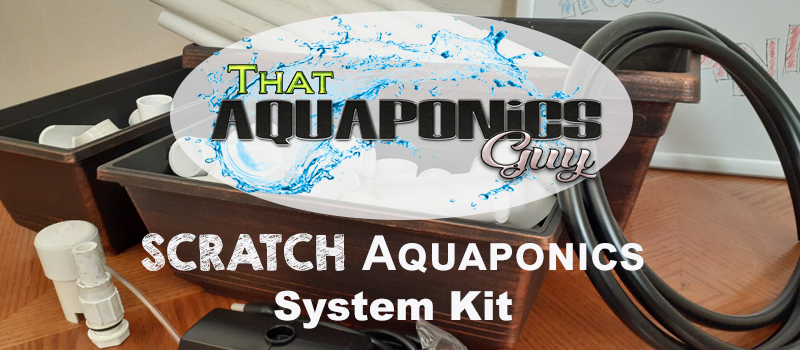 We have highlighted for you in a few of our videos in our Features section of the site what you would need to build your own Aquaponics system from scratch. The list of items you can find there. If you aren't feeling that industrious, we also have the Scratch Aquaponics System Kit that we have developed with your type in mind, that all you would need to do once you receive it is put it together, start cycling it, and growing your seeds in their seedling pods under the grow lamps.
The Scratch Kit is purposed for indoor use, so you need to clear a space in your house, preferably in a space that you can control the swings of temperatures high or low (garage or otherwise) that will give your Desktop System a better chance to thrive.
You also have to keep in mind that there are always little adjustments that will need to be done, especially in the first stages of your System. pH Balance is essential, along with having the right amount of microbial bacteria for it all to work. Additionally, water flows, pumping times, Biofilter adjustments all come with the territory. A lot of the subject matter online focuses on the growing, harvesting, and preserving of the food but there is so much more to it than just filling your stomach!
Aquaponics is a mindset, a lifestyle of sorts that goes hand in hand with the principles of Self Reliance. After you get your list or buy your Kit, you can also start implementing other aspects of the Aquaponi-maniac strategies.
Self Reliance
If you aren't familiar with the part of Self Reliance called homesteading, just like in growing your own food, there are other aspects of living that you can learn how to be resourceful and make yourself, yes, even if you rent or have only a quarter of an acre to work with. There are other aspects where you can take back control over the things you need to comfortably live.
As we covered extensively in parts 2 and 3 as Aquaponics as the subject, when you have a Self Reliance homesteading project you want to accomplish, you need to make the plan and assess your resources. The internet has plenty of step-by-step articles, infographics, and videos to help you through just about any project you can imagine. We are building our video and article tutorials and education sections, so start your search with us for what you can find for free and via subscription.
Begin by researching projects that will use recycled and upcycled items that usually end up in the trash. That is one great way to be resourceful
When we wanted to increase our water storage capacity, we didn't run out and buy a bunch of containers. I crowdsourced my friends on social media if they could save their 2-liter soda bottles or juice bottles and give them to me instead. After giving them a thorough cleaning and disinfecting, we filled them up and stored them with the date written on the side. Remember water can and does need refreshing every 6 months, I empty them out into the outside garden directly or the rain catch system I've built and fill them with fresh water. I kept the plastic from going to the landfill and the water is still used. Nothing went to waste.
There is a lot more to homesteading self-reliance!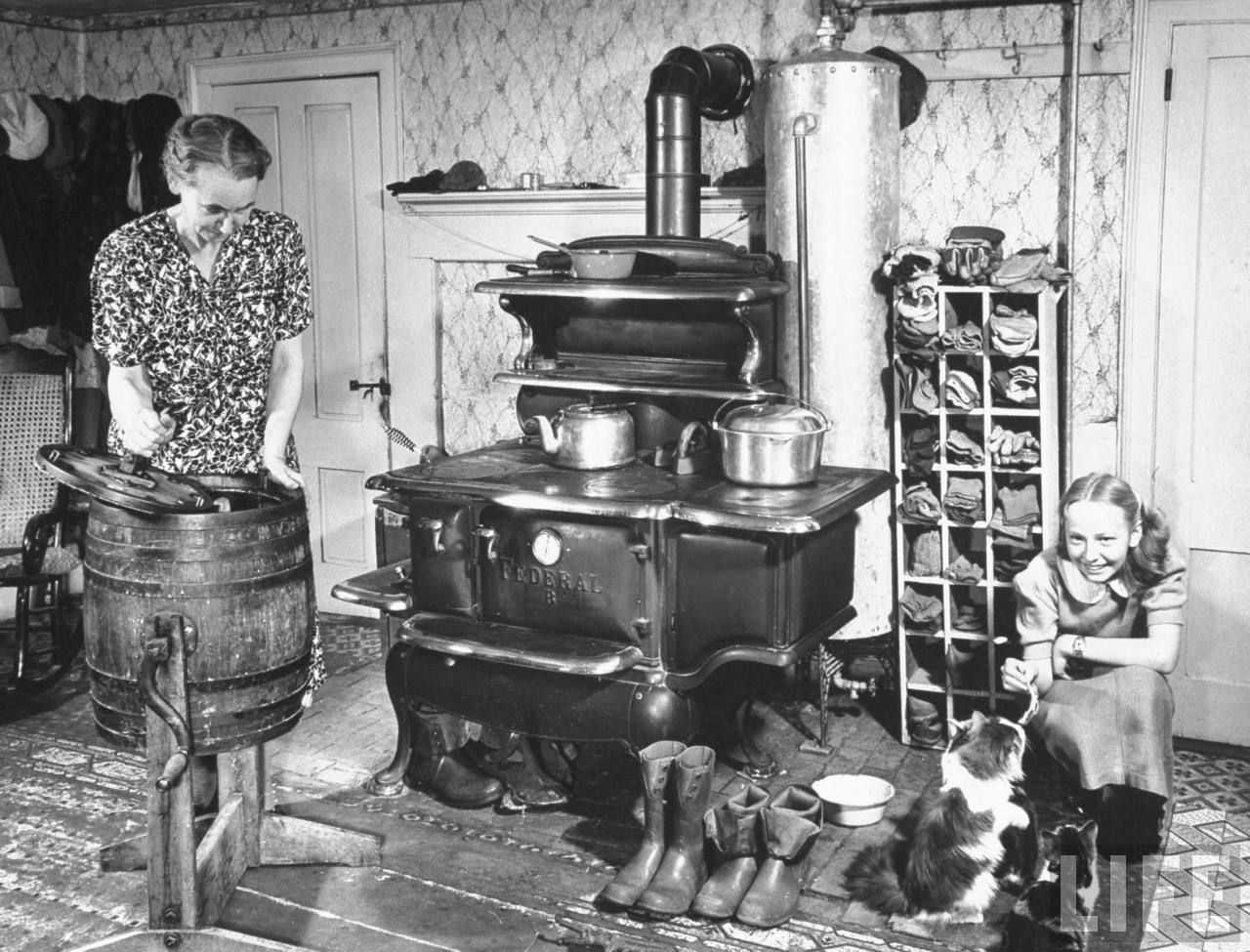 It is important to keep your project list manageable to avoid feeling like you are slacking along your way. Remember, you eat an elephant bite by bite, not in one big gulp! It is easy to keep adding to the list but as with all new skills, it takes time! Life gets in the way of being able to complete certain projects and the sooner you acknowledge that the easier things will go overall. (Just ask my herbalism studies for that matter!).
What about cleaning products for the home as well as the body? Making candles, lotions, and blankets utilizing supplies you didn't realize you had are a part of the fun of self-sustenance!
Let's say you want to start making your own bar soap and laundry detergent. You begin by making up your mind, researching what you need, and making a plan on how to gather the items. Assess your resources, then take action!
Are you a person who enjoys essential oils? You can put those to good use for refreshing scents in your bar soaps! If you use coconut oil regularly in your cooking, you already have a fantastic ingredient, on hand, for making the bar soap (and lotion, too!).
It is amazing what you can do with something as simple as an old white t-shirt (rag rugs, blankets, padding, cleaning rags) or all those candles that are used up but have some wax left in the jars (melt them all down and make a new one!).
As you research the laundry detergent, you learn that when making your own powder mix will require a bar of soap! Finely grated, the bar of soap is combined with other inexpensive items such as washing soda and borax to make a huge batch that will last you a very long time. The best part, it is at a fraction of the cost per load when compared to even the more basic brands.
Missing something to complete the project? Don't run out there and buy anything until you absolutely have to! Consider your network of friends, family, and acquaintances. Does one of them have what you need that you could barter for? Maybe they will be glad to be rid of it and give it to you for free. Using social media to ask larger groups of people increases your chances of finding what you need, too. Need to work on creating a network to draw from?
A good support system starts with friends and family. From there, consider these options:
Like-minded social media groups
Local homesteading or farming clubs
Your local agricultural extension office
Recycling centers and thrift stores
There is real freedom to something as simple as making laundry detergent (and it really is simple!) that most people never consider. Ever try a new detergent and think, 'This would be perfect if it got a little sudsier' or wish you could change the scent? When you make your own, you can! To me, it is part of the fun, too. I can keep fine-tuning a recipe or completely change it if I want. Whatever will work the best for my household is the goal, not a one size fits all approach.
It is unrealistic to believe that you will never have to spend money on the resources you need. Even people who live 'off-grid' in the mountains and hills all around us and subsist on hunting, fishing, and growing food still need to buy resources from a store to keep going. The main difference is they try to either create or barter for what they need and buy as a last resort.
Self-Reliant Homesteading, no matter where or how you do it, is no different.
Back to Aquaponics
So you have what you need through your various methods of gathering what you already have and procuring what you were lacking. Now is the time to make things happen!
It's important to remember with Aquaponics that you will mess things up now and then. Give yourself a little slack, have a good chuckle, and move on. If the first ones who tried doing aquaponics in the days of old gave up after a few failures, the world would look very different today. Failing is not such a bad thing at the end of the day. There is still real value in what didn't work and sometimes, you end up discovering something amazing!
All of these steps will take you on an amazing journey filled with all life has to offer, including the good and the bad. No one said it would always be easy all the time. The difference between the way you used to live – a consumer just going along with the status quo – to the lifestyle you are now living tends to balance out those frustrating times. Each attempt at learning or implementing something new into the way you live brings with it new confidence, skills, and rewards that you have created for yourself.
In Part 5, the last of the series, we will detail all the tangible and intangible rewards your efforts will earn you. Other than having a bounty of veggies, there is a lot more you get in return that never crossed your mind until you have experienced it!
Overall TakeAway
It is very possible as someone who is "between ownership" of land or a home can be self-reliant with their food efforts. When you bring into your space the food-producing actions like an Aquaponics System, you can gain the experience you need to grow the food, and increase the volume of what you gain as a result. Rather than becoming discouraged by your inability to purchase a traditional aquaponics system, do what you can with what you do have.  Whether that is an urban apartment, a rented barn in the countryside, or a seaside cottage, self-reliance is a state of mind, and a willingness to think outside the box.
One other point.  As we begin to add skills to our arsenal, think about becoming a homesteader in mind if not in property.  Practice being perseverant and couple that with extreme resourcefulness.
The stuff may never hit the fan in a major way, but if it does, you will be ready.