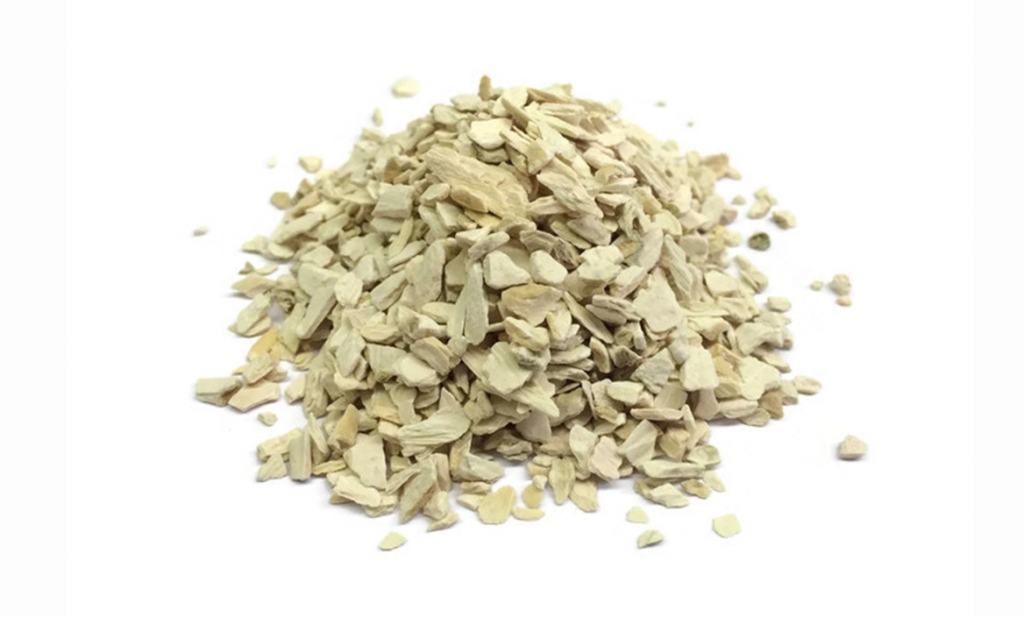 This yields a spicy, sweet and tangy tonic that truly lives up to its name. I make a batch every fall to support immune function, stimulate digestion and warm up on cold winter days. Some people also use it in the spring, when seasonal allergies tend to pop up, to help sinuses stay clear. It's a spicy, delicious tonic that's made by infusing apple cider vinegar with powerful immune-supporting, lymph moving, circulation stimulating, antioxidant-rich and digestion enhancing fresh herbs.
Equipment Needed
Quart-sized jar with a lid

Parchment paper or wax paper (If using a metal lid, not needed if using a plastic lid)
Ingredients to Put Together
½

cup

 fresh ginger root

(peeled and diced or shredded)

½

cup

fresh horseradish root

(peeled and diced or shredded)

½

cup

fresh turmeric root

(peeled and diced or shredded – if not available substitute ¼ cup additional ginger and ¼ cup additional horseradish)

½

cup

white onion

(chopped)

¼

cup

garlic cloves

(minced)

2

jalapeno peppers

(chopped – or if you really like heat try habanero instead)

2

organic lemons

(zest and juice)

raw apple cider vinegar

(ACV)

several sprigs fresh rosemary or thyme

(optional)

½

tsp

whole black peppercorns

(optional)
Mixing Instructions
Here's the basic process:
Put chopped ingredients in a clean quart jar and cover them with a fermentation weight.
Pour vinegar over them until they're well covered.
Cover jar with a lid and store in a cool, dark place for 2-4 weeks.
Strain out the herbs and mix the infused vinegar with raw honey. Drink up!
Because it takes about a month to mature, I recommend starting your batch now so you'll be ready for fall. I actually have two going – one for the family and one for myself, because I love all things horse-radishy, and I'm not always great at sharing.
Instructions
Remember when using dried herbs the herbs to liquid ratio is 1:5 in the chosen jar and with fresh ingredients it is a 1:2 ratio

Add your chosen liquid – 80-100 proof brandy or vodka OR Raw unfiltered Apple Cider Vinegar

Place parchment paper between lid and jar

Seal jar tightly

Label Jar with Name of tincture, and date of creation

Shake jar often once a day for 3 weeks, and then 3 times a week for the remaining 3-5 weeks

After the 6-8 weeks, filter the herbs from the liquid, squeeze out the resulting liquid using cheesecloth or a nut milk bag
After Your Vinegar Has Infused, Add:
raw honey

(optional – add to taste)
Put the liquid after the infusion of the ingredients and raw honey into a glass bottle with a tight fitting cork, or lid. Keep it refrigerated. Shelf Life: Herbal vinegars have a relatively long shelf life, usually lasting at least six months.
HOW & WHEN TO USE: Many people take 1-2 tablespoons throughout the fall/winter months to support immune function, or every three to four hours if cold and flu symptoms are present. Although my kids don't generally gravitate toward spicy foods, they really love this stuff!
Here are some more ways to use it:
As a "wellness shot" – I actually love the taste, so I put about 1 oz. in a shot glass to drink straight up. You can also add extra honey or cayenne pepper if you'd like!
Added to herbal tea – If I'm feeling congested I put couple of tablespoons in lemon ginger tea and then breathe in the steam as I sip.
Mixed with water – If you don't feel like making herbal tea, just mix it to taste with hot water and honey.
In juice – For little ones, mix a small amount into freshly-pressed orange juice or lemonade
As a marinade – It's delicious with beef or chicken.
As salad dressing – Mix with olive oil and honey to make a yummy vinaigrette.
Added to rice or cauliflower fried rice